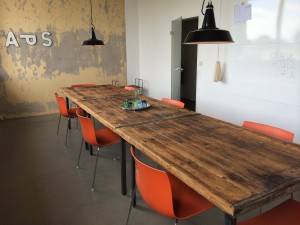 Brainstorming, Workshops, Kundenpräsentation… Es gibt viele Gründe, warum man einen Meetingraum braucht. fritz46 bietet einen Besprechungsraum von 22 m² mit Platz für Meetings bis 10 Personen. Auf Wunsch mit HD-Beamer und Flipchart. Catering auf Anfrage und Kaffee können ebenso dazu gebucht werden.
Brainstorming, workshops, customers presentations… There are a lot of instances why you would need a meetingroom. fritz46 offers a conference room of 22 square meters, which accommodates up to 10 persons. HD projector, flipchart, catering, and coffee are also available on request. 
Preise / Prices
Kopfpauschale 15,00 € p.P. pro Stunde / 15,00 € per capita and hour.
1 Tag / day (8h) 249,00 € + Beamer / projector 
Kaffeeflat / coffeeflat 5,00 € p.P.
*** Bis auf Weiteres steht der Meetingroom nur auf Anfrage zur Verfügung /// Until further notice our meetingroom is not available***